PHOTOSPEED ISWITHIN PRESET TIME AND FILM THICKNESS TO COMPLETE DEVELOPEMNT USING MINIMUM EXPOSURE DOSE (Eth)
PROCEDURE??
(1) EXPOSURE
(2) PRESET DEVELOPMENT TIME
(3) MEASURE REMAINING THICKNESS,AND BY CALCULATION GET Eth VALUE。LTJ PROVIDES ALL THREE TYPES OF EQUIPMENT
(1) UVES-2500 EXPOSURE SYSTEM
CHANGING LENS TO ACHIEVE 248、365、405、436nm & BROADBAND。(FIG10-7)。
FIRST GET WAFER SURFACE EXPOSURE DOSE,THEN EXPOSE STEP BY STEP。EXPOSURE DOSE IS MONITOR In-situ,EXPOSURE TIME CAN BE SET.
FIG 10-8 SHOWS EXPOSURE STEP,FIG 10-9 CALCULATION PANEL。
(2) SD-200 DEVELOPING EQUIPMENT
FIG 10-10 SHOWS SD-200。
FIG 10-11 DEVELOPEMNT CUP。TEMPERATURE SET 23℃ ± 0.1℃
HIGH PRECISION DEVELOPMENT
(3) MEASURING REMAINING FILM THICKNESS AND (Eth)
EXPOSURE COMPLETED WAFER SHOWN IN FIG 10-12。ACCORDING TO DOSAGENOW WE HAVE DIFFERENT REMAINING THICKNESSES。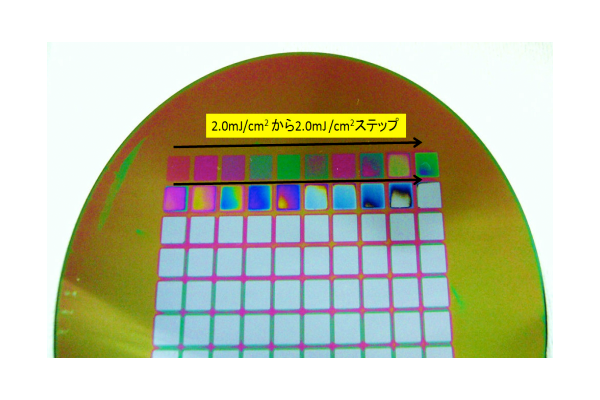 FIG 10-12 DEVELOPMENT FINISHED WAFER(FROM 2.0mj/cm2 DOSAGE ONWARDS)
FIG 10-13SHOWS,ACCORDING TO REMAINING THICKNESSES,WE GET THICKNESS VS DOSAGE CURVE AND Eth VALUE RESULTS。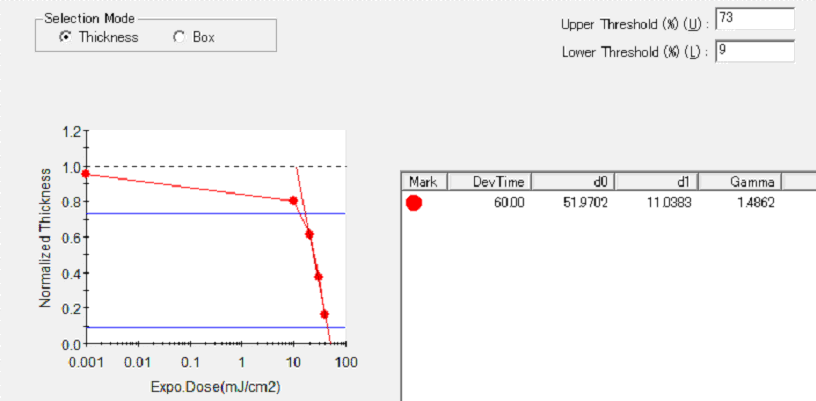 FIG 10-13 gamma CURVE AND Eth VALUE
LTJ CAN CONSTRUCT YOUR QC ACCORDINGLY.